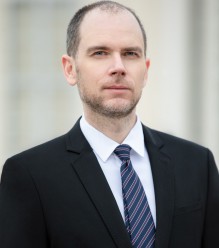 ERU Group continues to develop new directions of activity and further strengthening its Тeam. Being based in Austria Andrii Berezhnyi will lead European operations of ERU Group. Mr. Berezhnyi will focus on the expansion of the ERU Group's presence in Europe, execution of electricity generation projects and the implementation of the Group's energy efficiency projects.
"We have a strong vision of the company's development strategy, precise understanding of all necessary requirements, financial resources, and a very professional Team. It is time to add a new powerful driver to our European branch and energy service sector. Andrii Berezhnyi is a professional with wide experience in energy projects development, energy assets management and cooperation with international institutions. We are confident that he will realize our potential and implement ambitious plans of the ERU's long-term strategy" - said Yaroslav Mudryy, Managing partner of ERU Group.
"I am very happy to join the ERU Team, one of the leaders in the energy market of Ukraine. Within the ERU group I will perform general management and directorship activities, focusing on organic growth of the company as much as expansion into the new markets"- shared Andrii Berezhnyi, the Director of ERU Europe GmbH.
Andrii Berezhnyi is an energy sector executive with broad international experience who obtained a number of senior corporate positions across the globe. Prior to joining ERU Group Mr. Berezhnyi worked at ContourGlobal company for almost 15 years, holding a variety of positions, including service as Vice President and COO Renewables Europe leading performance of the hydro, wind and solar 600MW+ portfolio in Europe. Mr Andrii Berezhnyi combines substantial experience working in a variety of geographical locations and was involved in M&A, construction, and operations activities in North and South Americas, Africa, and Europe.
ERU Europe GmbH - subsidiary company of ERU Group carrying license trading with energy products in Europe.